Manage, bid and track the progress of multi-phase projects by Creating Project Opportunities
Assign tender and new sale opportunities to Sales Team Members. Monitor the progress from anywhere.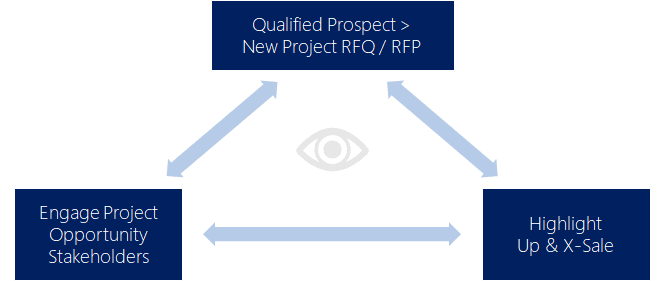 Create Up & X-Sale Opportunities
Highlight possible Up & X-Sale opportunities by building and maintaining project stakeholder relationships. Promoting sales team collaboration with Sales Gamification

Monitor Competitor Activities
Identify where projects are being won or lost to competitors with an organised methodology and powerful sales analytics. Maintain Sales Product Literature that give Sales Teams a faster, intelligent response.
Highlight New Up & X-Sale Opportunities
Just as engaging stakeholders can uncover new projects and opportunities. Having the visibility of project opportunities outside of direct tender requests builds sales.
Visualising data sources helps to identify hidden sales. Notifying sales teams of customers who are highly likely to purchase complementary products or services increases Up-Sales and yearly revenues.
Target the Hottest Accounts
Know your most profitable customers. Use sales intelligence to target prospects and contractors that are likely to translate into greater long-term opportunities. Be strategic and spend efforts on opportunities with the highest potential ROI.
Latest Customer Engagement Articles
Microsoft Dynamics 365 Customer Engagement Customer Successes
Having digital connections is core to delivering many elements of the HBS strategy. The Microsoft Dynamics 365 CRM and Case Management solution implemented by Sysco Software has had a very positive impact for our customers and their interactions with us.
Sysco Software's implementation of Microsoft Dynamics 365 for Sales, supported by Marketing add-on, ClickDimensions, provides a consistent user interface for our sales and marketing teams with real-time multi-level dashboards and reporting.
Sysco Software have almost become members of staff because they are working with us so closely and they know every aspect of our business. They get right into the detail of what a process and procedure needs to be and how it needs to operate so that they can design the best system to suit your needs.