Belfast Business Central User Day 2024
Thursday 22nd February 2024 | Crowne Plaza, Shaw's Bridge
We are pleased to announce that our Microsoft Dynamics 365 Business Central User Day Event returns to Belfast in February 2024.
The event will be held on Thursday 22nd February 2024 at the Crowne Plaza in Belfast.
We look forward to welcoming long-term customers and prospects to our event that will see companies from across Northern Ireland coming together to learn, discuss and share their Microsoft Dynamics 365 knowledge and experiences.

Early registration is now open for the event. Early registration ensures you are kept up to date with the latest agenda and event information.
A full agenda will be published soon but you can expect to hear the latest news from Microsoft Dynamics 365 Business Central and a roundup of our best-in-class technology alliances with special guests sharing their ERP journeys.
We look forward to meeting you at the event. 
About Sysco Software
Sysco Software is a multi-award-winning, and certified Microsoft Dynamics 365 Business Applications Solution Partner employing more than 110 full-time Dynamics 365 consultants.
Sysco Software are uniquely placed to deliver industry specific projects built on the Microsoft Dynamics 365 technology stack, the Power Platform hosted on a secure Microsoft Azure Cloud from offices in Dublin and Belfast.
In business for more than 40 years, Sysco Software specialise in Microsoft Dynamics 365 Finance, Manufacturing, Supply Chain, Project Operations, Sales and Marketing implementations. Our technical teams are constantly innovating, and our dedicated customer service teams have enabled Sysco Software to maintain our competitive advantage as one of Ireland's leading Microsoft Dynamics 365 implementation partners.
For further queries, please contact: David Reid | dreid@sysco-software.com | +44 (0)74 8338 2490
Public Sector News & Insights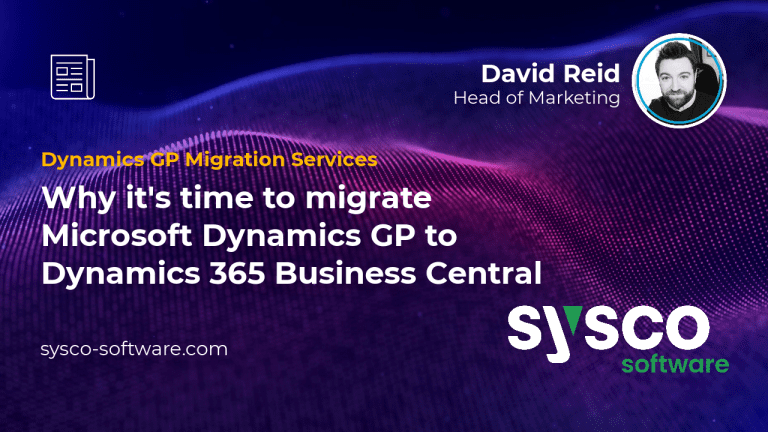 Learn how Microsoft Dynamics 365 Business Central, provides a seamless and advanced upgrade path for companies currently using Microsoft Dynamics GP.
Read More