Microsoft Power Platform: Power Apps
Connect to Customers and Partners with data rich web portals.
Quickly build professional-grade apps, create automated workflows, connect to diverse data sources, and embed dashboards into your apps when you use Power Apps with other Microsoft Power Platform solutions.
Empower your organisation to build apps - or let us handle it for you.
Create solutions quickly with low-code tools accessible to everyone. Solve business problems with Power Apps applications plus workflow automation, AI, secure data access, and seamless data analysis and visualisation capabilities.
Streamline cross team collaboration with quick, low-code tools.
Connect professional developers who understand your technology to business experts who know your business issues with low-code tools both can use successfully, enabling everyone to collaborate effectively for faster business results.
Create solutions that develop all aspects of your business.
Create custom apps or customise your existing business applications to meet the changing needs of your business. Then easily access those solutions within your Dynamics 365 and Microsoft 365 deployments.
Easy to use tools that enable your team to automate, processes, provide better data quality and provide continuous improvement.
Empower your team to start building and launching apps right away using prebuilt templates, drag-and-drop simplicity, and quick deployment—then roll out continuous improvements as needed.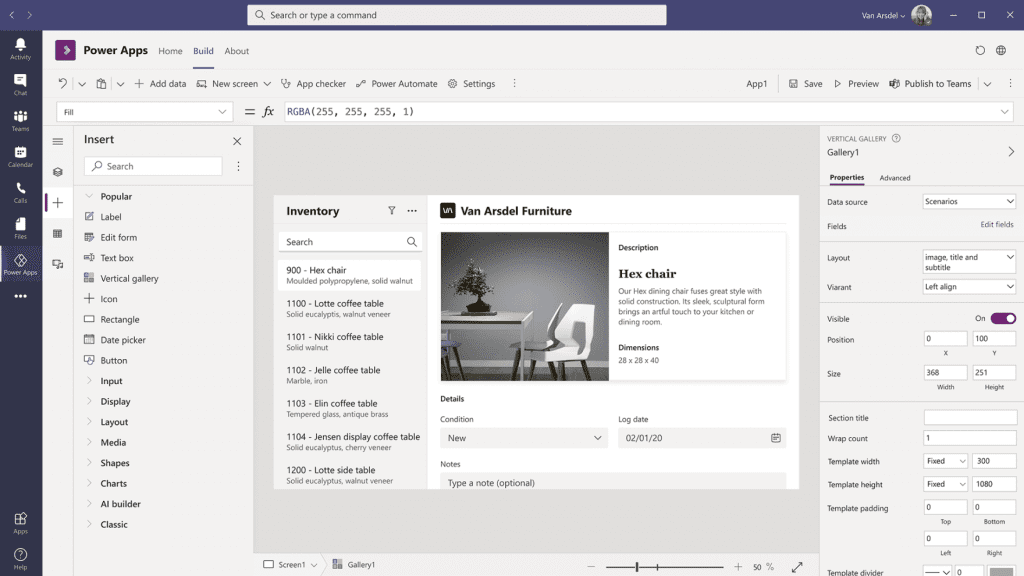 Reduced App Development Costs
Average Improvement in Productivity
Power Apps drive business transformations.
Learn how businesses reduced development costs and increased overall efficiency using Power Apps in this Total Economic Impact™ commissioned study by Forrester Consulting.
Image to App - Express Design
Power Apps in Teams - An Example
Power Apps with AI Tools - Receipt Scanner Example