At Sysco Software Solutions, we are proud to be a leading Microsoft Dynamics 365 Partner in Ireland, offering unparalleled opportunities for professionals and graduates seeking to build a career in Microsoft Dynamics 365. 
With our renewed branding, we invite you to "Join Us on Our Journey" and discover a workplace that values integrity, and quality while fostering a culture of equal opportunity and mutual respect.
Our success is down to our people, and we welcome you to embark on this exciting journey with us.
Whether you are a seasoned Microsoft Dynamics 365 professional or a recent graduate eager to join our yearly Microsoft Dynamics 365 Academy, through the strong growth within the company, we have created opportunities for you to develop new skills and progress in your professional and managerial career.
Finding The Right Balance
We are committed to creating the perfect work-life balance for our employees, understanding that there is more to life than just a fantastic work environment and delivering solutions to some of the most renowned organisations in Ireland and the UK.
As a Sysco Software employee, you can enjoy a flexible working environment with the option to work from home, coupled with numerous company social events and activities throughout the year. Our social calendar includes team lunches, pizza nights, escape rooms, nights out, and annual festive get-togethers.
We believe that a healthy, happy, and engaged workforce is the key to our success, so we offer some of the best benefit packages in our industry.
Developing Skills
At Sysco Software, we are dedicated to finding and nurturing the best Microsoft Dynamics 365 talent, regardless of your career stage. In addition to providing a fulfilling role within Sysco Software, we support our employees and promote an inclusive and diverse workplace environment that builds on your knowledge through support of new Microsoft Dynamics 365 certifications and other related learning activities.
Societal Responsibilities
Sysco Software is a company that's deeply committed to community and societal responsibility, actively participating in various outreach initiatives, such as sponsoring local sports teams, making charitable donations, and supporting worthy causes.
Our dedication to enhancing the lives of individuals and communities extends beyond the borders of Ireland and into the wider world. By volunteering our time and resources, we help bring innovative ideas to life and make a positive impact on the communities we serve.
As a prospective Sysco Software team member, you can take pride in joining a company that values community responsibility and actively contributes to the well-being of those around us.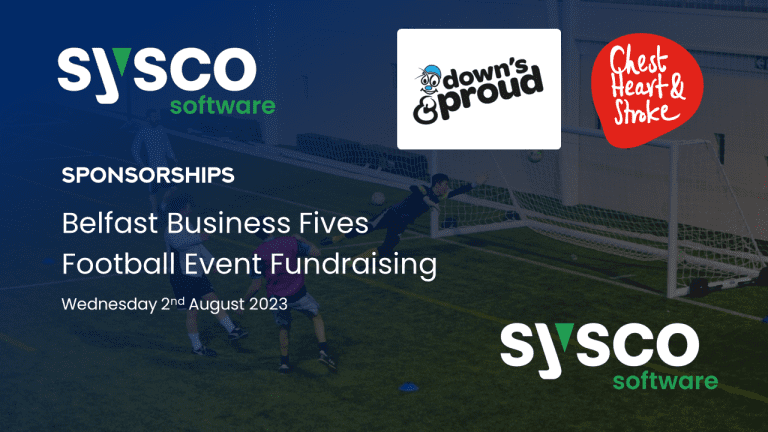 We're thrilled to announce that as part of our Sysco in the Community initiative, we're taking part in the Business Fives Belfast Five-A-Side Football Event.
Read More »
Ready to Join Us on Our Journey?
Sysco Software Solutions is the perfect place for talented individuals seeking a rewarding career in the Microsoft Dynamics 365 industry. Our commitment to work-life balance, employee development, and community responsibility sets us apart from other companies in Ireland.
With our diverse and inclusive workplace environment, we continuously strive to provide the best opportunities for professional growth, personal satisfaction, and making a meaningful impact on the world around us.
Explore our career vacancies in Business Central, Finance and Operations, and Customer Engagement and take the first step towards a fulfilling career at Sysco Software Solutions.
Together, let's shape the future of technology and make a lasting impact on the communities we serve.